Luis O. Rivera, Managing Partner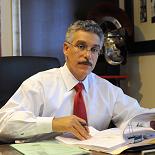 Luis O. Rivera is currently a Partner at the MRW Consulting Group® specializing in white collar crime litigation support, international and domestic investigative services, civil and criminal tax controversy, anti-money laundering and bank secrecy act services, financial fraud investigations and law enforcement training and reviews. At the MRW Consulting Group®, Luis has serviced numerous clients in the areas of voluntary disclosures, civil fraud matters, tax controversy issues, and forensic support on criminal and civil tax and fraud cases to include mortgage fraud, contract disputes cases, and business consulting.
Prior to the MRW Consulting Group®, Luis worked in a Public Accounting firm in South Florida in the Advisory Services Division. At the firm, Luis worked on tax related matters including matrimonial cases, tax audits, litigation support and collection and criminal tax matters. Luis also worked on contract dispute cases providing forensic expertise. In addition, Luis expanded the Firm's practice to include work on Money laundering/forensic accounting matters internationally. Luis has developed criminal cases for trial and testified in various forums including US District court and administrative hearings. Luis brings 28 years of experience with the IRS Criminal Investigation Division and the Inspector general's Office of the Agency for International Development (USAID) Luis served as Special Agent, Foreign Service officer, Supervisory Special Agent, and task force Deputy Director finally retiring as the Assistant Special Agent in Charge (ASAC) of the Miami Field Office. As ASAC in IRS Criminal Investigations, Luis provided leadership directing field operations of the field office (Miami) with over 160 employees. He provided guidance and stewardship over program implementation, and plan execution. He had investigative, administrative and approval authority over complex, multi-jurisdictional tax, money laundering (Bank Secrecy Act) and financial fraud cases covering South Florida, Puerto Rico and the US Virgin Islands. Additionally, he was responsible for implementing the IRS criminal Investigations business plan, conducting operational reviews, approving and overseeing tax fraud, white collar crime, and money laundering investigations, including undercover operations.
Expertise
• Forensic Accounting
• Financial Investigative Techniques
• Trial Support & Preparation
• Money Laundering
• Tax Fraud Investigations
• Black Market Peso Exchange
• Voluntary Disclosures
• White-Collar Crimes
• International Investigations
• Foreign Diplomacy
• Witness Interview Preparation
• Law Enforcement Management Consulting
Affiliations
• American Institute of Certified Public Accountants
• Association of Certified Fraud Examiners
• Association of Former Special Agents
• Puerto Rico College of Certified Public Accountants
• Florida Institute of Certified Public Accountants
• Member of the Clara Barton Society of the American Red Cross (2011)
Seminars & Lectures
• Association of Certified Anti-Money Laundering Specialists
• Florida Institute of CPAs
• Columbia Bankers Association
• Cuban-American CPA Association
• Florida International University
• Guatemala Central Bank
• Organization of American States
• Pan-American Money Laundering Conference
• Planned Giving Counsel of WB
• Quito Bankers Association
Accreditations
• Certified Public Accountant
• Certified Fraud Examiner
• Certified Financial Forensic
• Private Investigator
Education
• Bachelor of Arts, Accounting - Rutgers University